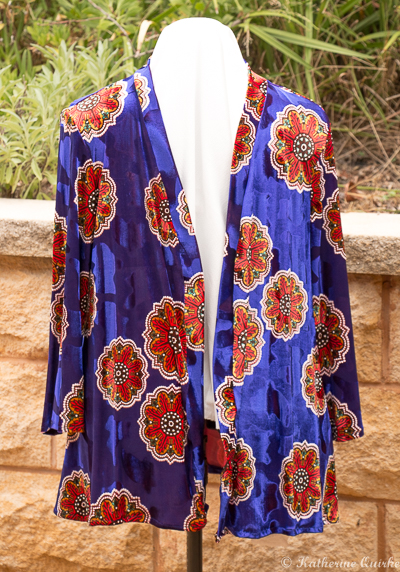 A Little Bit Royal – Jacket
I remember the day I purchased the fabric for this very rich and lively jacket. Like all my fabric purchases I had no idea what I would be making from it, all I knew was I needed to have it in my stash.
Going through my wardrobe and finding this jacket again was very exciting. It seemed to have hidden itself away.
Whilst the fabric is a lovely shimmery velour it is quite light and a good in-between season cardigan. It looks heavier than what it really is. Every time I have worn it the stunning colour has attracted positive comments. Oh, how I love having an item of clothing that another person will never have all because of a fabric choice.
I love how the jacket can be rolled up and put in my suitcase or bag and it doesn't crush. Teamed up with a pair of black pants or skirt it really sings.
The pattern used for this is McCalls M6408 that offers a variety of styles and is perfect for light one-way stretch knit fabrics. The pattern is now out of print but a search of the internet you may find it uncut or cut to your size.