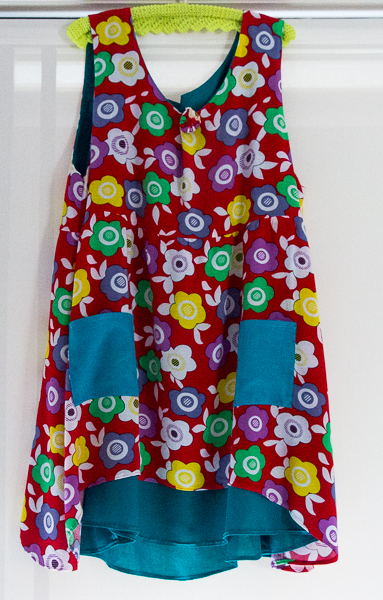 Metamorphic Dress – It's Reversible!
My most recent wardrobe addition is this completely satisfying Metamorphic Dress, an Indie pattern by Sew Liberated gifted to my by one of my dear friends.
Being and Indie pattern I found it to be traditionally lacking in some directions. For a dress like this that is essentially 2 dresses joined together it could be said it is really not for the beginner. However, once you have made it you understand how it comes together very easily and nicely.
So why did I find this make satisfying? Well, the whole process was totally enjoyable. I think it was a combination of things; the fabric is really happy, the dress is massively versatile and the design is a little bit funky.
Essentially the Metamorphic Dress is 2 dresses in one. It is a layering piece and as time goes on I will post photos. The photo below is the dress with a simple white t-shirt under it.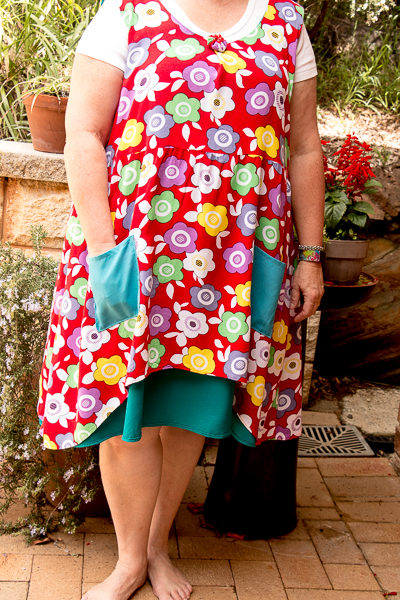 There were a couple of glitches. The pattern measurements are a little out of kilter. I should have made it one size smaller at the very least in the bodice. The back and front do gape a bit and because of the nature of the dress I cannot put darts in after the fact. But, I did make some clips that match the dress on the floral side and contrast on the plain side that give me a faux dart.
I will be making this dress again. Given my big fabric stash I should be able to make some really quirky looking dresses. With the addition of some new tops, legging and even a longer underskirt this should be the ultimate in wardrobe layering for all seasons.
If you are interested in the dress I think it is only available now as a pdf pattern from Sew Liberated. If you hunt around the web you may find the paper pattern being sold in other outlets. Also do a search on the dress for images and inspiration on how you can wear it.