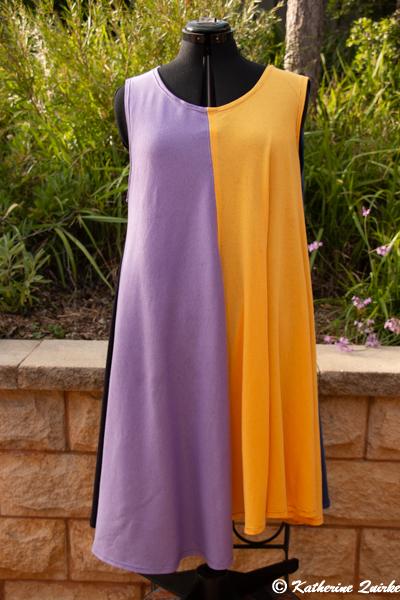 Stash Buster: Swing Dress
This dress calls for a medium weight stretch knit and has a lovely swing at the bottom.
I didn't have enough of one or 2 colours to make this but given this is a dress in 4 pieces I was able to use up stash fabric in 4 colours.
There was a little problem that only came to light after washing and hanging up. The yellow in the dress did not drop the same as the other fabrics used in the dress. The result is I have the look of unevenness in the dress, I have decided that is ok and pretend it is a designer thing.
The dress pattern also has a slit at the back and a hook and eye, I did not do this as the fabric has enough stretch and I felt it was just unnecessary.
I love the feel of wearing this dress. It works with a short or long sleeve teeshirt underneath or wear a top over the dress giving a look of a skirt/top outfit, a belt around the middle or simply without a top underneath. There is a long sleeve option as well.
The dress works well in all seasons and feels so relaxing to wear.
I will likely make this dress again, I love the pattern and it would work as a casual dress or a more dressy dress with the right fabric. I would also like to make the top at some point.
The pattern used is the McCalls M7404 Swing Dress & Top.