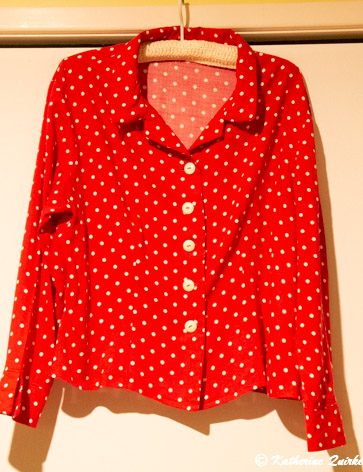 Red Blouse with White Spots
I made this blouse quite a few years ago again from a fabric I grabbed from my stash. I am pretty sure it is a poly-cotton fabric as it doesn't crush too easy and is soft with a very slight sheen to it. The pattern I purchased uncut from an op shop simply because I was enamoured with the sleeve design.
The cuff of the sleeve is in my opinion unusual in that it is not a button-up but a slit and can be folded up or left down. (This can be seen in the photo on the pattern package). The only catch is when I choose to wear it with the cuffs folded up I really need to press them into place well.
The buttons are very retro and I would say are quite old. The photo below shows the crazing of the buttons which I think adds to the finish. Again these have come from my stash of buttons that I often get gifted or pick up in op shops.
This was my 1st time making a blouse and the journey was very enjoyable.
The pattern is New Look 6844 that I am pretty sure is out of sprint and could only be purchased second hand.